The Moon App: progress update 2/14/18
By
• Last updated on August 20th, 2018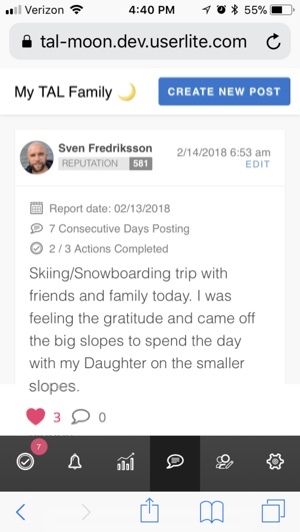 Just a quick note on how things are progressing.
Here's what we've added since my last update:
1. We now have a "reputation score" for each user, which is a measure of how active each member is in your organization. This gives you a base measure so that you can customize how you correspond with each client, or reach out to people who haven't logged in for a few days.
2. Users are now able to "like" posts and comments.
3. Team members are now able to see a profile view of other members, view fellow team members' statistics for action run streaks and programs, see one another's daily reports, and engage in private conversations with one another, all in one place.
4. A notifications bell alerts users to comments and likes on their posts and comments, as well as direct messages from other team members or their coach.
For coaches and mastermind group leaders who want to work with us from an early stage, we're ready to accept a handful of new users. If you're interested, please reach out to me or Aaron, and we'll get you started.​