The Moon App is in (early) Beta
By
• Last updated on August 20th, 2018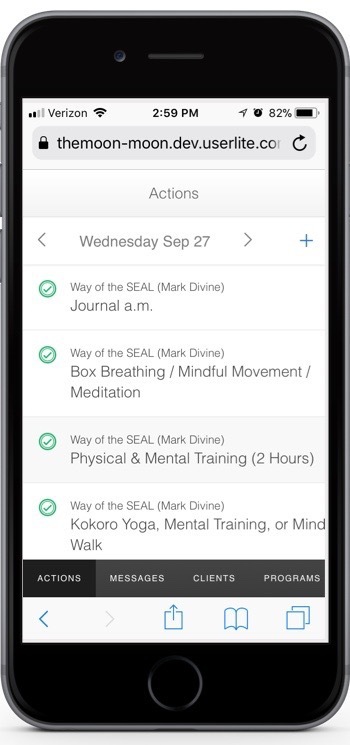 (view of my action list in the latest version of The Moon app)
You know something is a big mission in life when things get difficult and you keep pushing, anyway.
It became clear to Aaron and me over the summer that we were on the wrong track with the buildout of our technology, so we made the difficult decision to start over with a new team.
Our new technology strategy is to build a mobile-responsive web app, first, get feedback from our beta users, and then build the native iPhone and Android apps.
So far, so good. All of the basic components are now built:
Programs
Actions
Client and team management
Client progress
Sharing videos and audios
…and of course dozens of other behind-the-scenes infrastructure that's required to support a software application.
There are plenty of bugs we still have to work through before we'll be ready to begin working with beta clients…just wanted to get this update out there, 'cause we're getting closer by the day!
– Joel​