How The Moon App Made My Excuse Absurd
By
• Last updated on August 20th, 2018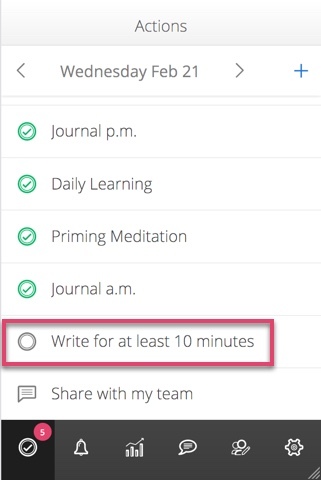 I've had a daily "writing" task on my moon action list for a couple of weeks now, and I almost never get to it. Although I journal every day multiple times per day, I've been wanting to write more for blog posts or–perhaps someday–a book.
Writing is like fitness: you have to do it consistently to get good at it, and to get a good long-term result. In the case of writing, the result might be a finished book or a blog full of raving fans. In the case of fitness, perhaps it's you in a swimsuit, with a body you wouldn't mind getting photographed for a Facebook post.
I haven't been good at writing, but I'm good at fitness and do it multiple times per week.
I always tell people who want to get started getting in shape to commit to just 10 minutes of exercise per day. The reasoning is that everyone has 10 minutes. You don't even have to get to a gym; you can do some pushups and sit-ups at home.  Eventually, those 10 minutes will expand to 20 or 30 minutes, because it feels really good to exercise.
In that spirit, I modified my action from "write" to "write for at least 10 minutes."
Catching Myself in the Midst of Deluding Myself
But here's the funniest part: last night I was sharing this insight with my Moon Coaching group as I was reporting in on my results for the day.
I originally wrote, "and I'm going to start tomorrow." LOL! Thankfully, I caught myself before hitting the "send" button.
See how the mind works? See what absurd tricks it plays on us? "You can change without changing, Joel!"
Sure, it was late late, and I wanted to go to bed. But it's only 10 minutes!  And I could find no excuses not to take those 10 minutes right then and there to type up the outline for this very blog post. As Tony Robbins would say, "When would now be a good time to write your blog post?"
Dang! This App Really Works!
Even though I wasn't fully committed to writing, I was committed to checking in with my Moon Coaching Group and sharing my results every day. And because I was committed to that, I was able to see how absurd my excuse was.
The ensuing 10-minutes resulted in the outline for this very post that you're reading now.
So my commitment to my own self-improvement through the app got me recommitted to writing…at least for a day. And now that I've made a big deal about it in my Moon Team coaching group and here in this blog post, I'll probably be even more committed, because people will be asking me, "How's the writing, Joel?"
My Moon Team is on the lookout, now.
So yep, this app really works! And you get this lovely blog post as a result of me calling myself out on my own B.S.​